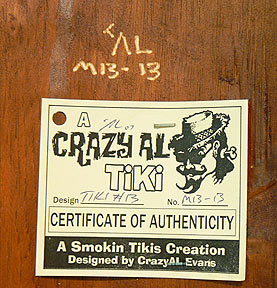 NOW AVAILABLE FOR CUSTOM ORDERS
DELUXE MUGS!!!
More Info & Buy Now w/ PAYPAL - Click Banner

|||CLICK HERE for VISA Shopping!! |||
Individually Painted by CrazyAL to Match the Originals
ALSO: New "Flat Glazed" Tiki#13 MUG!!!



please inquire



PAYPAL amount directly to:
AL@TIKIMANIA.COM

Call in Card info on the Bone Phone:
714 960 3003

send CC info in two different emails:
- #
-full name on card
-ex date
-billing address for card
||| e-mail CRAZY AL |||



Look for more goodies to add to you order!
I'll let you know your Total

Click Banner for Visa Shopping Etc...


||| HOME |||

||| mail order info |||

||| light switch covers ||| dashboard dollys |||
||| other tiki products ||| cool links |||


---