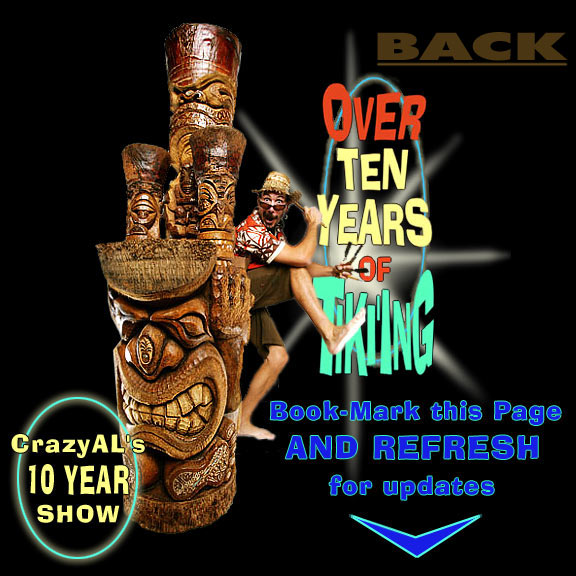 CRAZY AL EVANS: Retrospective Celebrations

Nicknamed by a local Southern California surf band for his onstage and on-bar antics, Crazy AL has been carving tiki imagery since 1990. His "Polynesian Pop"-inspired sculpture can be found from Hawaii to New York, and he's one of the most sought after carvers in the biz. Known for his authentic and imaginative style, Crazy AL's been at the forefront of the Neo-Tiki revival, which has vastly grown in the last ten years from three or four fledgling fan-based websites to world-wide festivals from London to Los Angeles.

SoCal locals can find Crazy AL hand-carving a tiki live on stage with his tropical themed band, APE. APE plays Catalina Island this Aug 19th at "Catalina Tiki Fest," as well as the big "Hukilau" in Ft Lauderdale FL in Oct. Aug & Oct will also include Los Angeles events with a stellar selection of Crazy AL's world famous tikis.


LONG BEACH, AUG. 18 '06:
Showing off works from his past ten years of carving palm wood, Crazy AL's First Retrospective Show was Aug.18th in Belmont Shores, Long Beach. The 6th annual "Tiki Beach Fest" Hosted a Ten Year Anniversary Show to commemorate the first two large palm wood tikis that AL carved. These two tikis where commemorated with two collectable, limited edition ceramic Tiki-mugs also sculpted by Crazy AL. Crazy AL's Bone Productions Tiki gift line was available with new and one-of-a-kind products.
'06 Aug. 18-19th

and introducing new Tiki#1 & Tiki#2 Mugs!!
Very limited runs of these commemorative Mugs available that weekend.
http://www.tikimania.com/docs/bt_01.html
http://www.tikimania.com/docs/bt_02.html
More info and pics on mugs here: info and pics click here

Order available mugs here: info and pics click here


CrazyAL's first Tiki necklace of ten years ago Available Again!! info and pics click here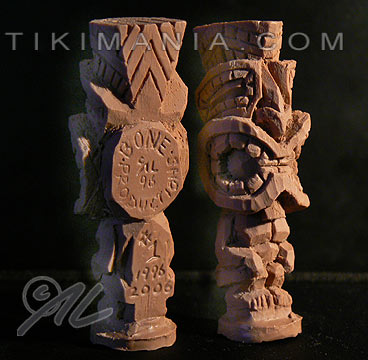 -----------------------------------
www.alfredosbeachclub.com/tiki_festival.htm
-----------------------------------



SILVERLAKE, OCT. 13 '06:


On Oct. 13th in Silver Lake, an artist's enclave in East Hollywood, the famed La Luz de Jesus Gallery hosted another "Crazy AL Retrospective Show" which highlighted his appearance in the first major Tiki Art show of Oct. '96: "21st Century Tiki." These tiki-art shows are now common place across the globe, but the 7 ft. Crazy AL Tiki #3 "King Tiki" was carved for a La Luz Show ten years ago. 'King Tiki' was also be commemorated with a collectable, limited edition, ceramic tiki-mug sculpted by Crazy AL.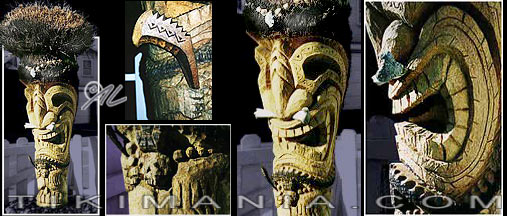 http://www.tikimania.com/docs/bt_03.html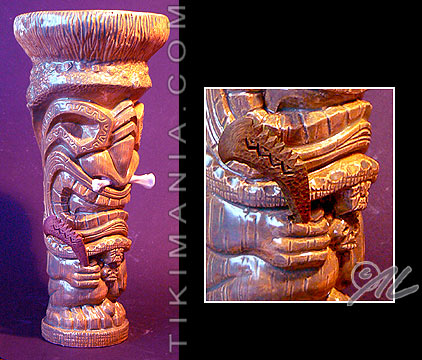 ........ commemorative mug available of Tiki #3 "King Tiki"
This event was the first time this many tikis from AL's artistic career, including many tikis carved at APE gigs, were displayed together, along with never before seen artifacts from the 'Bone Productions' legacy.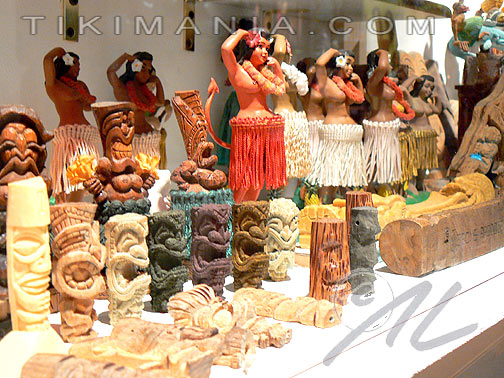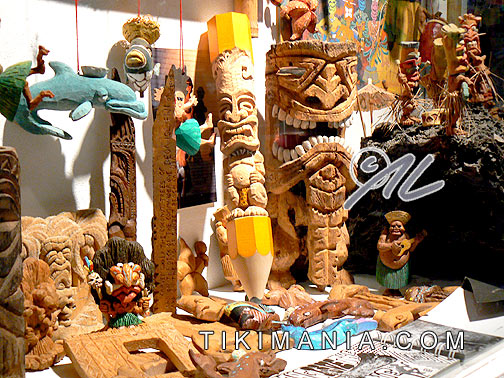 If you missed the Ten Year Retrospective Show!
Take the Virtual Walkthrough on the Web Courtesy of BIFF and PelicanConcierge.com
You will need QuickTime to view. Download here if you don't have:
(well worth this download, 360 look top/bottom - side to side)
http://www.apple.com/quicktime/download/mac.html
Menehunes
Tiki Hall
Tiki Mugs
Tiki Hall 2
Spin Tiki Yin/Yang#66
Gallery
-----------------------------------
www.laluzdejesus.com
-----------------------------------


SEATTLE,WA SEP. 15 '06:
In 1996 I co-curated "20th Century Tiki" at La Luz de Jesus Gallery. It was the first Tiki art gallery show ever and spawned many others around the country. The success of that show and the publicity it generated sparked the current Tiki art movement. Meanwhile I had met Crazy Al and had been following his career as a creator of miniatures and a budding Tiki carver. It is no accident that Al's inclusion in that show has led to his 10-year retrospective happening at La Luz in October. His obvious talent and singular creations makes him stand out from the crowd. And it is no accident that Al is part of a legendary group show opening in Seattle This September.
In 2004 I curated Tiki Art Now! to showcase the growth of the Tiki Art movement. Of course Crazy Al was part of this large group show. For Tiki Art Two Crazy Al expanded the concept of Tiki Art in a gallery by creating an entire walk-in, Tiki bar size diorama of art. Tiki Art Now! volume 3 is now upon us and once again Al is represented with two unique pieces. These can be seen at the opening on Sept 15, 2006 at Roq La Rue Gallery in Seattle or by visiting Roqlarue.com online.

- Otto von Stroheim, Tiki News magazine, www.tikinews.com

........an additional chandelier for last years installation, and a second velvet painting and hand carved frame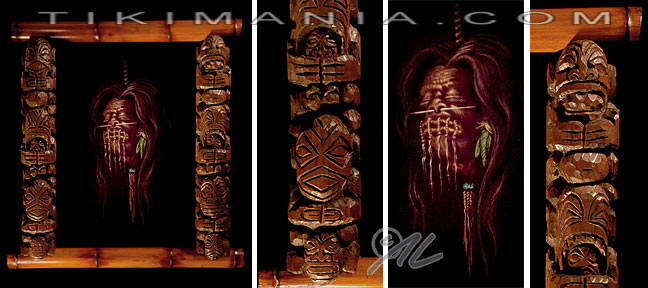 http://www.tikimania.com/docs/TikiArtNow3.html
-----------------------------------
'Roq la Rue Gallery'
2312 Second Avenue, Seattle, WA 98121
Phone 206-374-8977
www.roqlarue.com Contact: Kirsten Anderson
-----------------------------------


Tiki's and Terrors 2 September 16 '06:
This show will feature a follow-up to the "Shrunken Head #1" piece debuted in Seattle the same weekend. CrazyAL takes you on a trip to New Genie via his velvet painting of a museum piece from the De Young collecting in San Francisco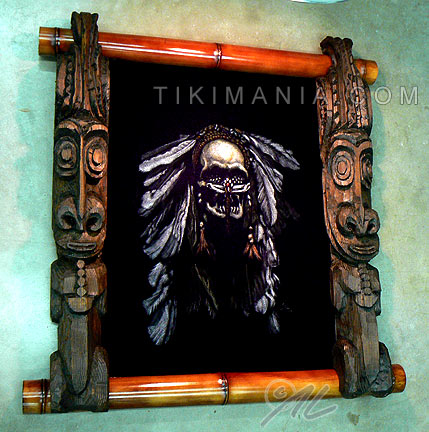 Opening reception from A Stuart Gallery
at The Bahooka ( http://www.geocities.com/bahookarestaurant/ )
Sept 16, 2006
4501 N. Rosemead Blvd Rosemead 91770 6 pm - midnight , along with the Art show there is a very Special and Limited Edition Tiki mug release party
-----------------------------------
www.tikisandterrors.com
818 919 2045
-----------------------------------


DECEMBER 9th '06, SANTA MONICA:
December will highlight another of Crazy AL's artistic relationships. The Copro/Nason Gallery celebrates 15 years with it's own Retrospective Show. Many of AL's earliest and most ground-breaking works were produced for Copro/Nason art shows. Once again Crazy AL is creating an impressive example of his unique style and immense carving skill for Copro/Nason. 'Crazy AL Tiki #120', "Von Rat Tiki" will be displayed in Dec. and also grace the pages of the Copro/Nason Gallery 15th Anniversary Book, debuted at their show. This Retrospective book will also feature Crazy AL Tikis #17 & #18. These tributes to vintage velvet painter Edgar Leeteg, incorporate AL's velvet painting skills into his masterful carving.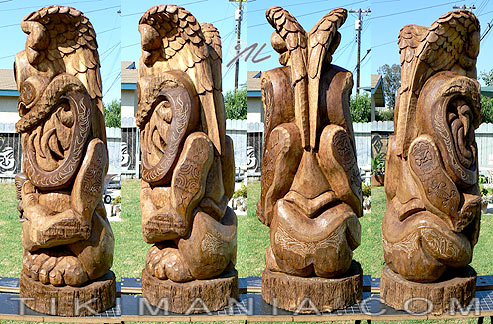 -----------------------------------
'Copro/Nason Gallery'
2525 Michigan Ave T5 - Santa Monica, CA 90404
310-829-2156

www.copronason.com
-----------------------------------

-----------------------------------

CRAZY AL EVANS

Crazy AL Evans is a Southern California-based artist working in many types of sculpture and a variety of media. Since 1992, Crazy AL's "Bone Productions" has been producing Tiki-inspired products on a small scale for a Tiki-depleted market. In the summer of 1996, AL was asked to carve two large tikis to complete the renovation of a friend's backyard. Large Tikis were a new challenge to AL and he jumped into the adventure cold but with a heated passion. The first six logs that where to be carved came from the front yard of his childhood home in Scottsdale, AZ. The Phoenix area, with it's plentiful Poly-Pop, Sun-Belt tropical surroundings, played a large part in developing a Tiki-Psyche in young AL. The stump of this palm log was personally dug up by AL, root ball and all, for his Tiki #3 "King Tiki." It would appear in the Tiki News/La Luz de Jesus "21st Century Tiki" show in October of 1996. These first tikis where carved with limited knowledge of technique other than photographic scrap books as source material. Images scrounged from sources such as 'pre-Book of Tiki' Sven Kirsten archives and an Oceanic Arts catalog steered direction. The lack of traditional training provided a unique, creative meandering through this new journey. For his large Tiki creations, AL works almost exclusively in palm wood. Crazy AL's technique has developed an exploitation of the many layers and textures of the material. Ten years ago, staring at the blank log, and starting at its surface, each dramatically different layer revealed amazing opportunities to create complexity in design and concept. The natural material, a once living tree, is shown off, not hidden, in the Tikis of Crazy AL. Once again, the southwestern origins of AL's upbringing come into play as Native American art was very prevalent in his home. His father's Hopi Kachina Dolls that loomed over him in his youth gave him a clear understanding of Art as a translator. Natural forces, God, Man, the unexplained is suddenly clear through an artists creation. As a mainland Tiki carver, AL's goal is to create unique and individual creations of meaning and importance. For the most part, it is not his intention to mimic Polynesian Art.

The recent works of velvet paintings reveal that palm Tikis are just one avenue of the art of Crazy AL Evans. The last decade has seen the growth of Tiki Culture and AL has continued to be at the forefront of the revelry. A singer and a songwriter, he is the frontman for the neo-Exotica band APE. As APE plays the classic sounds of Hawaii on steel guitars and ukulele, or as wild incarnations of Exotica and Calypso come forth, the enchanting music inspires AL to rythmically chop a Tiki into being from a raw log. The beat of the music moves his axe with savage abandon. These 45-90 minute Tikis are the alter ego to Crazy AL's usual fair, which can take over 50 hours of carving insanity. Crazy AL Evans has recently been seen on local and national TV carving Tikis on the Discovery Channel's "Dude Room" and the TV Guide Channel's "Ready Set Change."