Second Edition of the Definitive Tiki ART Show SEP. 16th '05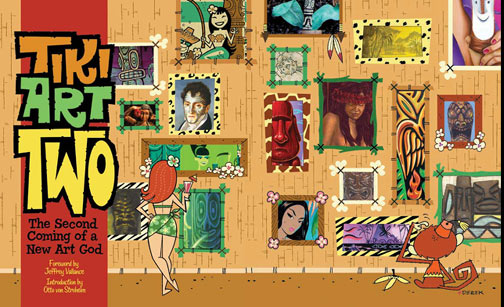 Show opened Fri Sept 16 2005
"Tiki Art Two: The Second Coming of a New Art God."
This group show of new work inspired by Tiki includes groundbreaking, life size, immersible installations by Crazy Al Evans and Tiki tOny.

Exhibit showed from September 15 - October 8, 2005 www.shootinggallerysf.com - www.tikinews.com - www.redrum.com
Tiki Art Two - a group show featuring: Bosko, Dave Burke, Davey, Kirsten Easthope, Crazy Al Evans, Ewik, Makoto, Munktiki/Paul Nielsen, Munktiki/Stuckie, Niagara, Isabel Samaras, Shag, Miles Thompson, Tiki Tony, Heather Watts, Derek Yaniger
tiki totem
AL Justin Otto




artists and Otto
Heather and Isabel




AL Installation
The Tiki Room







AL & Miles
Tony & AL

Full Color Catalog Book and Signing Events Near You!!



This unique array of neo-primitive images is captured in a 112 page full color catalog available opening night.* Published by San Francisco's 9 mm Books, the catalog features an introduction by renown artist, curator and art commentator Jeffrey Vallance, and foreword by Otto von Stroheim publisher of Tiki News.

* Catalogs are available from The Shooting Gallery for $19.95 + $5 shipping U.S.



Email sales@shootinggallerysf.com or call 415-931-8035 during gallery hours.
Gallery hours: Tuesday through Saturday, noon to 7 pm
839 Larkin Street, San Francisco, CA 94109
info@ shootinggallerysf. com


---
||| HOME |||

||| mail order info |||

||| light switch covers ||| dashboard dollys |||
||| other tiki products ||| cool links |||

||| e-mail CRAZY AL |||