"CRAZY" ROLL BACK TO 2004 PRICES!
CrazyAL has formulated an affordable glaze for these Bare Bone days!
Elegant and Ancient, A perfect revealing Glaze!
ONLY 25 of each will be made!

This Paleo-Tiki Glaze is the perfect treatment for the fantastic sculpting in CrazyAL's Tiki Mugs. All the varied texture of the original sculptures is clearly seen as this glaze perfectly reveals CrazyAL's manic style of sculpting.

Get the Whole Bone Yard or the few missing in your collection
by buying these packaged deals.


The first three palm wood tikis carved in Aug.1996.
First released as commemorative mugs in Aug. 2006 for $35 - $65...
Now sell form $100 to $350

Tikis #2- #3 & #1



Get all three for $135
Purchase King Tiki individually for $65


The first three palm wood 'Fine Art' tikis carved in Oct. 1998.
#13 First commemorative edition released in 2004, #11 & #12 in Oct 2008 for $35 to $65...
Now selling form $40 to $300+


Tikis #13- #12 & #11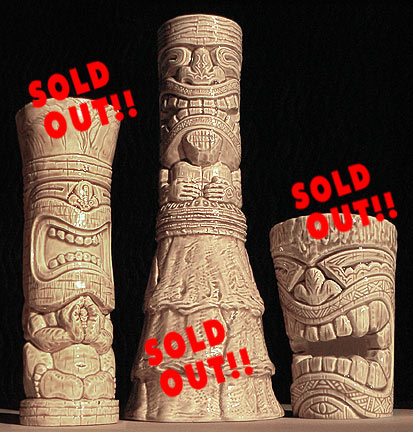 Get all three for $100
($10 for Tiki #12 torch)



These three Manic Mugs have very limited Numbers!
* #18 First released by TikiFarm in 2002 and First Design to sell for over $300!
* Less then 90 Kona mugs have been made by CrazyAL so far!
* All #107 mugs have been released in editions only 25.
These Manic Mugs sold from $65 to $80. Now sell from $80 to $300+
Tikis #107- #18 & Kona



Get all three for $120
Purchase Two for $100 Or individually for $55



These four mugs were first released as commemorative editions of 100 form $30 to $60...
Now selling from $80 to $300+


Tikis #80- #1- #2- #13



Get all four for $100!!
Two for $75 or purchase individually for $40


||| e-mail CRAZY AL for these Mugs! |||


Crazy Al Evans Crazy AL Crazy Al Crazy Al Evans Crazy Al Evans Crazy Al Evans tikis

---
||| HOME |||