*** DO NOT WAIT ***
The Fourth release of
collectable Tiki Mugs in the
'CrazyAL Tiki Gallery Collection'
-------------------------------

CERAMIC MUGS
Tiki#80 mug is 10.5 inches tall and holds a 14oz!!
Now Available
!!!Ask For One Today!!!
CrazyAL Tiki #80
"Lucky Tiki"

NOW AVAILABLE!!
Hand Painted Custom Colors Glazed and Fired
Made to Order 3-4 Weeks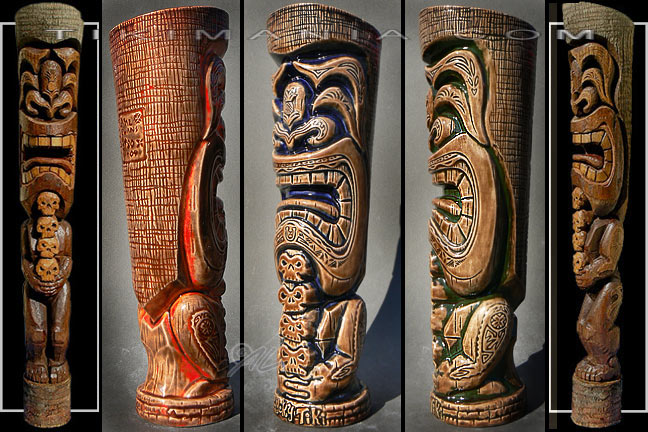 Name your Color at Check Out



Orange ~~~~~~~ Red ~~~~~~~ Maroon ~~~~~~ Purple ~~~~~~~ Blue ~~~~~~~~~ Green

Individualy Dated! and Numbered w/ Custom# and Color# !!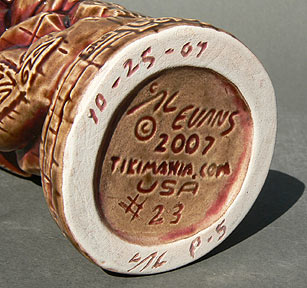 Custom Color Tiki#80
$90 ------------------ Each
shipping $12




NOW AVAILABLE ! *** The DELUXE !!
CUSTOM MUG!!!
Individually Painted by CrazyAL to Match the Original
<------ ------>


Made to Order
4 - 6 Weeks
***



This mug is a replica of the original sculpture carved in Nov. 2004.
Commissioned for the Fourth Tavern opened by Bobby Green
"The Lucky Tiki - Enchanted Drinking Room",
"Lucky Tiki" is the Eightieth Tiki Sculpted by CrazyAL
MORE OF CRAZY AL'S HANDY WORK AGAIN!
CrazyAL has sculpted this highly detailed replica himself. He has detailed this pieces complete with the original signature on the back. An outstanding job has been done in the production of these complex pieces. All the varied texture of the original sculptures are clearly seen, perfectly recreating CrazyAL's manic style of sculpting.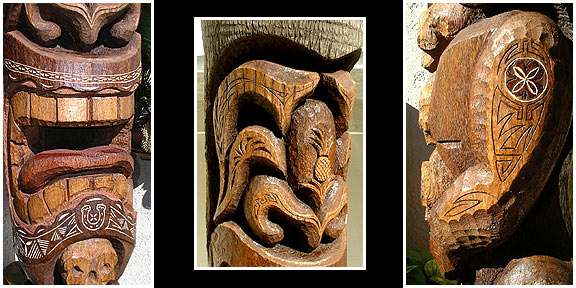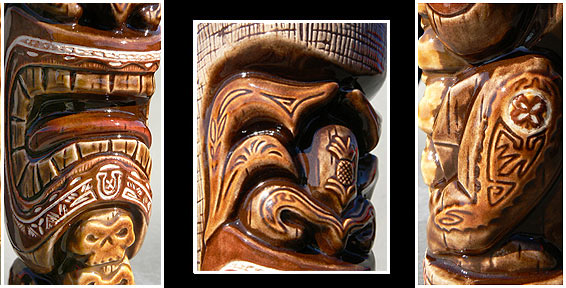 Individualy Dated! and Numbered w/ Custom# and Color# !!


Custom Deluxe Tiki#80
$400 ------------------ Each
ins. shipping $13

$200 ------------------ Deposit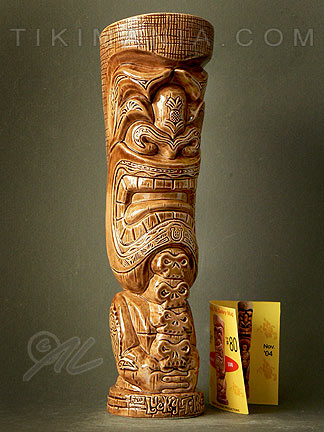 Edition of 100 BoneYard Brown - NOW SOLD OUT!!
Edition-A -$60 ------------------ Each





check out Tiki#80! and click here
The Eightieth palm tiki sculpture by CrazyAL, "Lucky Tiki",(or "Four Victories Tiki") was proudly displayed as a Center Post in the 'Chief's Hut' in the 'Lucky Tiki'. The 'Lucky Tiki' is currently relocating and can be reached at
The Lucky Tiki





Proudly made in USA
by
CrazyAL's Bone Productions




---
||| HOME |||

||| mail order info |||

||| light switch covers ||| dashboard dollys |||
||| other tiki products ||| cool links |||

||| e-mail CRAZY AL |||